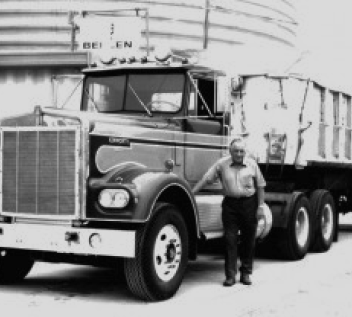 Our Origin
Wilson Industrial Sales was founded in 1987, but our story began over two decades earlier when Thomas and Richard Wilson established a retail fertilizer company in 1960. Based in Brook, Indiana, Wilson Brothers had one lime spreading truck to serve the local farming community. During this time, the family-run business established a reputation for high-quality and friendly, people-oriented customer support – values that remain central to the Wilson Group legacy today.
Thanks to the groundwork laid in the 60s, the company expanded beyond its humble beginnings to launch additional retail fertilizer plants in the 70s and 80s. During this time, the company also added a grain elevator and wholesale fertilizer operations.
Wilson Brother's Fertilizer used Ammonium Sulfate and began storing and supplying it as a virgin material – from there, the operation expanded to include co-products and industrial chemicals like sulfate, phosphoric acid, and sulfuric acid.
By 1987, the industrial chemical business had grown large enough to branch off on its own as a separate corporation. With that, Wilson Industrial Sales was born. At this time, the Wilson Group also established Wilson Transportation, a vertically integrated entity that ensures our distribution meets and exceeds industry-standard safety and service levels.
30+ Years of Trusted Results
For the past 30+ years, Wilson Industrial Sales and Transportation has safely sold and distributed premium-quality industrial chemicals to industrial and agricultural clients across Indiana and throughout North America. As members of the National Association of Chemical Distributors, we handle ammonium sulfate, phosphoric acid, and countless other hazardous and non-hazardous materials, and have been past recipients of the NACD-verified Responsible Distribution Excellence Award.
In 2012, we relocated our offices to Rensselaer, Indiana to strategically increase accessibility and improve our position relative to the interstate and state corridors – this has enabled us to further improve our transportation operations and delivery times.
Today, Wilson Industrial Sales and Transportation markets over 400,000 tons of product annually. Despite our growth and success, we remain committed to the family-run business model of our humble origins – the company's current president, Keegan Wilson, follows Tom (1987-2004) and Steve (2004-2020) as the 3rd generation of the Wilson family to hold the title.
Future Outlook
Looking forward, we plan to explore safe, responsible, and environmentally-sound uses for materials while continuing to deliver the industry-leading service our clients have come to expect. Since 1987, Wilson Industrial Sales has been focused on exceeding client expectations and we don't plan on slowing down anytime soon.